As the winter season approaches, restaurant and establishment owners alike should look at some ideas for outdoor furniture for winter. Not only can these ideas keep customers warm and happy in the winter months, but they can also increase overall revenue and add a new flair to any space. As the COVID pandemic has brought a heightened focus to outdoor seating in general, being aware of some of these tips and tricks can pay huge dividends in the long run, and even bring about some permanent changes going forward.
The pandemic has played a massive role in outdoor seating for restaurants. While most restaurants in the northeast, mid-west, and southwest close patios due to inclement weather, many establishments may be reconsidering this in order to compensate for limited indoor seating due to restrictions. If that's the case, it's important to consider options that include the best outdoor furniture for winter climates, as well as specific outdoor furniture that can survive the winter.
Restaurant Patio Ideas For Winter
Some general restaurant patio ideas for winter include not only the appropriate furniture for the cold months but also some lesser-known tactics that can really liven up an outdoor space. These ideas include:
Using the right furniture – Choosing the appropriate outdoor furniture for winter climates is perhaps the first option to consider for restaurant owners. All too often, a restaurant or bar will buy furniture that looks good during the day but proves to be a liability when inclement weather strikes. For these cold months, a great idea is to use heavy furniture that incorporates metal such as wrought iron, and wood, especially pressure-treated. Not only will these pieces stand up to the elements, but they will also stay in place in windy conditions, and can even be stored outside if you lack the storage space indoors. Wicker furniture with cushions is another great idea, as they generally withstand the cold and take little damage.
Providing a heat source – Investing in heating equipment is a great choice to not only extend the life of outdoor furniture but also offer exclusivity to your establishment. Commercial patio heaters can keep your customers warm during cold nights, and also add some flare to your space. The best heaters with electronic ignition and adjustable controls are generally easy to install, use, store and maintain. Outdoor fireplaces are another way to bring some old-world charm to your establishment. They can introduce not only light and heat but can provide a classic atmosphere to set that holiday tone.
Making it comfortable and exclusive – Creating a cozy atmosphere is a sure way to keep customers happy when dining outdoors. This can be achieved from various techniques, such as candles, hanging lights, and other festive decorations. Dining pods have also become increasingly popular during the pandemic. These enclosed features provide a sense of comfort for patrons and also work to keep them warm.
Preparing your patio surface – Weatherproofing a patio is extremely important in the winter months. By ensuring that water doesn't pool on the surface, you can not only allow patrons to go outside right after a storm ends but also avoid the formation of ice and other slipping hazards. Incorporating mats at the entrances and exits of the outdoor space also reduces water and snow from tracking inside.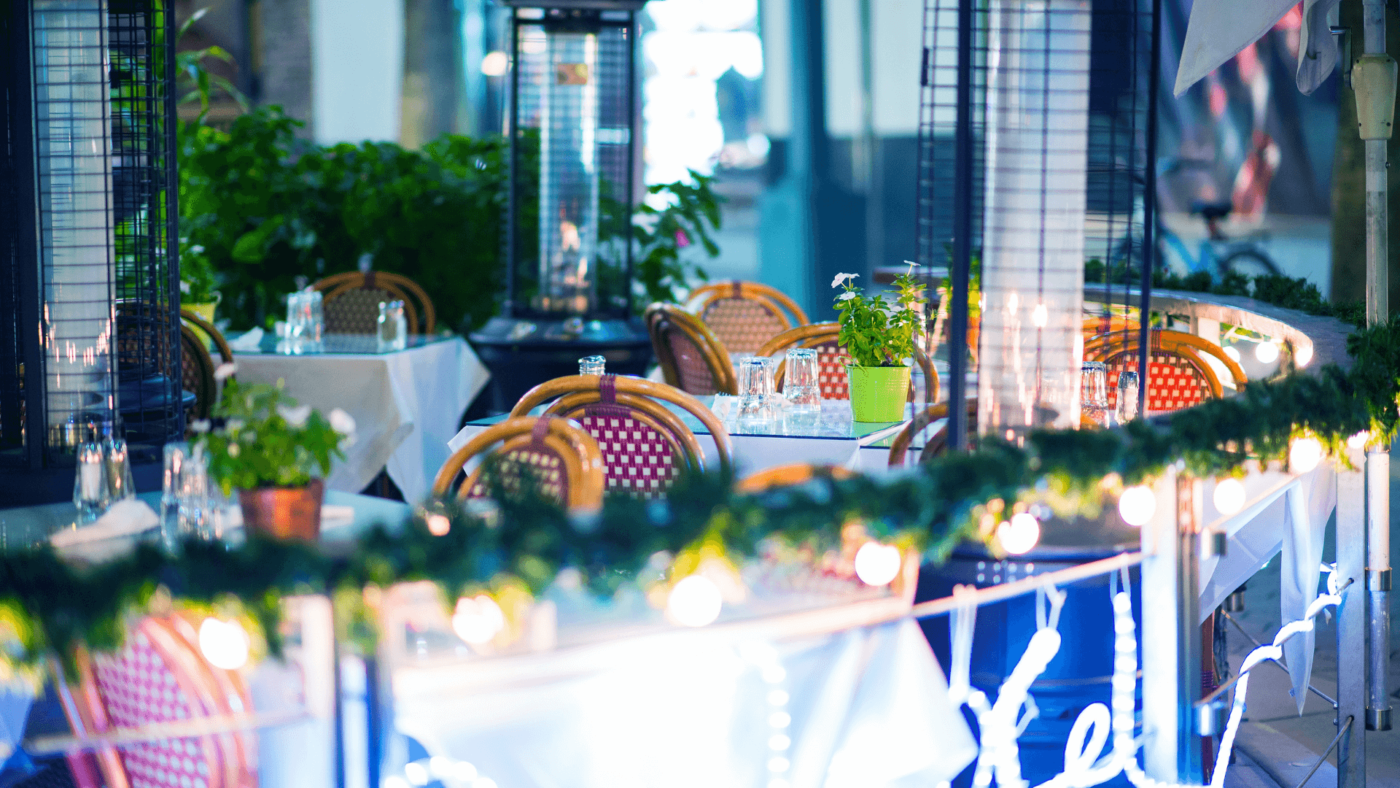 Creativity is Key
The winter season should never be a time of worry for a restaurant or establishment. Taking this time to get creative, explore some new decorative options, and incorporate warming and cozy features are all sure ways to increase revenue and add new life to any outdoor space.
Bistro Tables and Bases
With nearly two decades of experience in the industry, Bistro Tables and Bases understands the importance of outdoor dining for any restaurant. We have been committed to being a trusted restaurant furniture supply store by helping restaurants build more enjoyable dining experiences, with the best choices of outdoor furniture for winter climates. From aluminum and wrought iron pieces, to table tops, bases, and more, we are proud to provide the highest quality restaurant furniture pieces for any and all establishments.
Check out our guide to choosing the best restaurant furniture to see how your establishment can benefit in the winter months. For any questions or comments regarding our products, or to request a quote, contact us today.