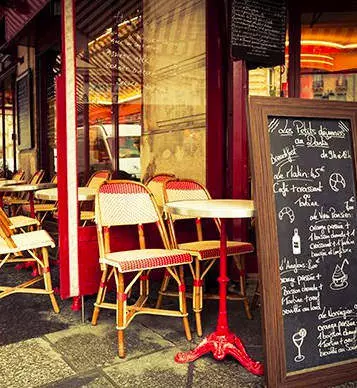 Great Selections. Competitive Pricing. Personalized Service.
For nearly two decades, Bistro Tables and Bases has been committed to being a trusted restaurant furniture supply store by helping restaurants build more enjoyable dining experiences.
Having worked in the industry for 16 years, we understand the demands of restaurant life. We have an extensive selection of high-quality commercial bistro tables and chairs, accessories, and more. We guarantee you will receive the support of prized customer service personnel and furniture craftspeople who are truly dedicated to your satisfaction.
When it comes to choosing from commercial restaurant furniture companies, feel confident that we offer good value, fine craftsmanship, and beauty. Our buyers have traveled the world to find products that are both innovative and adhere to the highest standards for manufacturing design and comfort. When you purchase from Bistro Tables and Bases, you get restaurant furniture that will last you for years to come.
Shop with us and get the benefit of people who truly care. We are dedicated to your experience and our designers will work tirelessly with you to select the right commercial restaurant furniture for your needs.
Bistro Tables and Bases – a restaurant furniture supplier you can count on. We offer discounts for large volume orders and work with all the major trucking companies to offer you some of the best shipping rates in the industry. Contact us for more information today.
MISSON
We strive to offer a vast inventory of restaurant furniture means you'll be able to find the perfect pieces to complement your décor—all in one place.
PASSION
When you work with Bistro Tables and Bases, you not only get a huge selection of durable dining table bases, table tops, chairs, and outdoor furniture, you get it all at a great price!
OUR COMPANY
When you're looking for the best restaurant furniture for your new venture or an established business, you can count on Bistro Tables and Bases for quality furniture made to withstand the traffic of daily patronage.
FINE RESTAURANT FURNITURE: The Bistro Tables & Bases Story
Design
At Bistro Tables and Bases, we have nearly two decades of experience helping those in the restaurant industry find the best solutions possible for their businesses. Our products are sourced from around the globe so that we can always make sure our clients are getting the very best in terms of design, originality, and function. Our clients know that they can rely on us to provide them with solutions that work, at prices they won't find elsewhere.
If you're looking for commercial table tops and bases, we're confident we have the styles—and the prices—you want.
We offer wholesale discounts for large volume orders and work with major trucking companies to ensure that we're offering the most affordable shipping rates. With a design team on staff and buyers spread out all over the world, we know you'll be happy with how your dining room comes out.
Quality
The best dining room furniture starts with the best craftsmanship. At Bistro Tables and Bases, we take quality seriously. From the materials used in the production of our furniture to the standards of the builders we use, every step in creating our products is driven by quality and efficiency.
Because your restaurant's dining experience is about more than just the food that you serve, we work with builders in a wide range of countries to ensure that we supply only the finest of tables, chairs, stools and more. Rest easy knowing that along with exceptional value, you're also getting restaurant table tops and bases that check off all the boxes in terms of production and beauty.
Together, let's create beautiful restaurant spaces that show off just how exceptional your business is. Contact us today to learn more about the high quality of our products and our unwavering commitment to craftsmanship.
Comfort
We're committed to better dining experiences. Since 2002, we've been working with restaurants around the country to craft custom dining rooms that maximize design and comfort for patrons and staff. Our buyers travel the globe to find the most innovative and well-designed dining products, which we then make widely available to you.
Your restaurant's dining experience is about more than just the food that you serve. Every restaurant has unique needs—and from the size of your space to the flow of your service and the ambiance you are trying to create, your dining room furniture needs to maximize efficiency while also maintaining optimal comfort and innovation of design.
Together, let's create beautiful restaurant spaces that show off just how exceptional your business is. We're always available to answer questions, and we look forward to working with you on the best solutions for your restaurant dining room. Get in touch today!